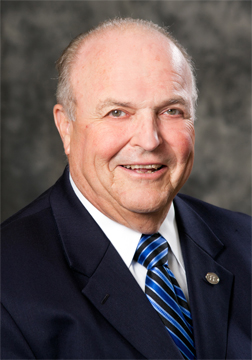 Dennis M. Echelbarger, CPA/CFF/CGMA is the founder (1977) and former Chairman of the Board of Echelbarger, Himebaugh, Tamm & Co., P.C. (EHTC). He spent eleven years as an employee and partner in another local CPA firm and four years as the Chief Financial Officer of several manufacturing and wholesaling companies. He taught at Davenport University and for the Michigan Association of Certified Public Accountants (MICPA). Dennis earned the designation Certified in Financial Forensics (CFF), which indicates specialized forensic accounting experience. He also earned the Charter Global Management Accountant (CGMA) designation, which is the global designation for CPAs working in business and government.
Dennis is part of EHTC's Transaction Advisory Services (TAS) team at EHTC, and plays a large role in both litigation support and valuations. With litigation support, Dennis often serves as a testifying expert in court for business valuations, divorces, damage calculations, forensic accounting, accounting principles, tax issues, and accountant and auditor professional performance. Here Dennis serves as an advisor to the arbitrator or mediator in disputes and as a consultant. Dennis also assists with valuations, where he determines the value of a business. This is especially useful for someone who is looking to buy or sell a business, needs a comprehensive analysis of the business's value, or is considering succession planning and gifting stock. Dennis has many years of experience in ensuring clients receive the detailed report based on his skills and expertise. He also has a role in financial forensics and has assisted and testified in several cases involving various types of fraud.
Dennis is also active in the local Grand Rapids community. He is a member of and has served on many industry associations, along with education and community boards. As a Past Chair of the Board of Directors of the Michigan Association of Certified Public Accountants (MICPA), he helped propel the accounting profession in Michigan to what it is today; he also served on the board for fourteen years. Dennis is emeritus on the Board of Trustees at Aquinas College, a member of the Financial Consulting Group, L.C., and a member of the Association of Certified Fraud Examiners. Dennis is also a past member of the Council of American Institute of CPAs, and the Michigan State Bar's Multi-Disciplinary Practice Committee. Dennis has made extraordinary impacts not only on EHTC, but in the West Michigan community and state of Michigan as well. We all greatly appreciate Dennis' contribution to the world of accounting.
About EHTC
EHTC is a dedicated, full-service CPA firm in West Michigan that focuses on helping clients to achieve their full potential through comprehensive accounting, finance and tax services. We are a local firm with large firm resources, using a team approach to proactive client service that helps our clients gain a competitive advantage through our ability to develop strategies and present realistic solutions that build value.